Rajoy appeals to Catalonia over split with Spain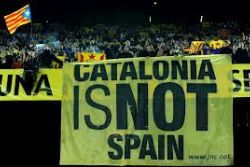 Mariano Rajoy has appealed to the Catalan Premier to turn his back on pursuing a referendum for independence and instead opt to remain part of a unified Spain.
In an interview with the Wall Street Journal, Rajoy explained that "I go to Europe to discuss banking union, or fiscal union, or more common market policies, and here you have someone who is talking about going the opposite way".
The message is likely to be overlooked by Spain's richest Region, which is largely thought to contribute far more in taxes to the state than it receives back in other benefits. The Regional Government of Catalonia is expected to approve the referendum process some time during October.
Rajoy also warned Arturo Mas to consider the constitutional implications of the result of any such referendum, and repeated the warnings made by the European Commission that an Independent Catalonia would not automatically become part of the EU.
However, it looks like it could be too late for Mas to do a U-turn as the cornerstone of the election campaign he won last year, was the issue of holding a referendum for independence.
Recommended Reading
• Catalonia to lose EU membership if split from Spain
• Gibraltar v Catalonia : Spain's Double Standards