President of ADIF Charged over Galicia Train Crash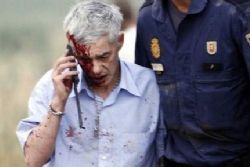 Three men, including the President of ADIF, have been charged over that lack of action over security issues, concerning July's fatal rail derailment in Galicia.
Along with the current head of the Spanish Railway Infrastructure company, two former Presidents were also charged.
Judge Luis Alaez criticised the disconnection of the rail traffic management system on the stretch of railway, which would have caused automatic braking once the speed limit had been passed.
The Judge held that Adif leaders "allowed this situation to continue, with a serious risk for people's lives."
However, both ADIF and RENFE, the company that runs the trains, have denied any technical failings and said correct procedures were followed.
The train's driver was charged with 79 cases of reckless homicide soon after the crash and released under court supervision while the investigation into the crash continues.
A total of 79 died close to Santiago de Compostela, Galicia, when the 8-carriage train tried to negotiate the bend approaching a station at 179km/h - over double the recommended speed limit for that stretch of track.
3D Animation : How the Crash Happened.