Castellon Airport wastes €1 Mln on sponsorship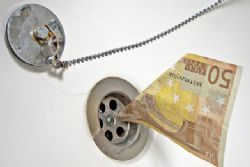 It has been reported how Aerocas have 'wasted' €1million by sponsoring a Motorcycle club during 2011.
In return the club agreed to promote Castellon Airport.
The 'Sponsorship' arrangement commenced at €1 Mln and subsequently increased by €150,000. However, the Airport - which is 99% owned by the Generalitat Valenciana - failed to honour their obligations.
Speaking last week, regional MP Marina Albiol, explained that "it is clear that Castellon airport was a mistake".
Questions have been asked over the agreement - particularly when the decision was taken to spend €1 Mln of public money in 2009, which was one of the worst years for the economy of Valencia, and considering that any 'promotion' would be highly unlikely to benefit any airport that was not yet operational.
Read further Castellon Airport news by clicking the link >> HERE <<.