Spain sees 700'000 departures since 2008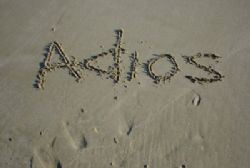 According to a recent report by Spanish think tank Fundación Alternativas, over 700,000 people - or around 1.5% of Spain's population - have left the country since 2008, with the number of departures from Spain being significantly more than the number of immigrants arriving since 2011.
However, what is perhaps surprising is that the National Institute of Statistics (INE) put's the figure closer to 200,000.
The reality is that the INE figure does not accurately account for foreign residents returning home. In 2012 162,000 foreigners left Spain - 83% of the total number of all emigrants - according to the think tank. However the movement of Foreigners is often poorly recorded due to the poor system of registry by the Spanish authorities.
Spain's inability to keep accurate records has led to some significant discrepancies between its and other countries' immigration numbers. Between 2008 and 2012, for example, Spain estimated that roughly 30,000 people emigrated to the UK; the UK, however, puts the number at nearer to 113,000. For Germany, the discrepancy is much the same: Spain's statistics claim about 17,000 people emigrated to Germany over that period, while Germany's hold that the number is upwards of 80,000.
Mass departures from Spain follow a busy 6 years of immigration, with the population growing by 720'000 per year between the years 2002 and 2008. Now the sudden dead-stop makes it seem like the figure are actually contracting.
More prosperous countries in western Europe - such as the UK, France and Germany - have been the most attractive destinations, between them attracting over 30% of all emigrants.
Following yesterday's news that unemployment figures for September were once again on the increase, and the prospects of an economic turnaround still looking grim, putting a halt to the trend will be no easy task. According to a study by the Center for Sociological Investigations (CIS) last year, just under 50% of Spaniards said they would be happy to live abroad, with around 20% admitted that they were already actively considering that possibility.