Spain Proposes 'Embassy Sharing' with Lat-Am Countries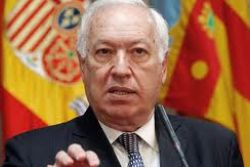 You wouldn't leave a toddler in charge of a box of matches, so why leave an imbecile in charge of Foreign Policy ?
Spain has proposed sharing embassies, consulates and trade offices with its Latin-American associate-members of the Pacific Alliance, Chile, Peru, Colombia and Mexico. Foreign minister Jose Manuel García Margallo said that the idea of sharing some embassies and consulates already is operational in the EU.
"It's not absurd to think that in a short time we could be sharing embassy, consulates or trade offices with countries from the Pacific Alliance" said Garcia Margallo during a meeting in Madrid with his peer from Colombia, Maria Angela Holguin. "It's important to look for these alternatives in times of scarcity and shortage of resources".
The economic crisis has forced Spain to close some embassies and consulates particularly in the African continent, but also in European countries.
Garcia-Margallo revealed that the Foreign Service bill currently discussed by the Spanish parliament includes this diplomatic option with Latin-America and it specifically mentions the Pacific alliance, of which Spain has observer status. He also recalled that Mexico and Spain already share some cultural offices in the United States.
Holguin and Garcia Margallo also addressed the coming Ibero-American summit in Panama scheduled for 18/19 October, which will have as its main emphasis promoting the small and medium sized companies.
The sharing initiative is part of the Spanish 2014 budget that includes an end to "pharaonic undertakings' with a drastic cut in infrastructure projects, which are back to the level of the eighties. Promotion Minister Ana Pastor said "the party is over: forget about pharaonic projects in Spain".
The 2014 budget has earmarked €4.6 bln for infrastructure promotion which is 10% less than the previous budget and is equivalent to the investments of the end of the 1980s. It is also a third of the €13.7 bln invested in infrastructure in 2008, the peak of a decade of uninterrupted increase of government investments.
Latin-American Country, Argentina, recently distanced itself from claims by Spain that they supported the country's stance against the UK over Gibraltar.
Recommended Reading
• Embarrassing Gibraltar U-turn for Spain