Further Train Crash in Spain Adds to International Woes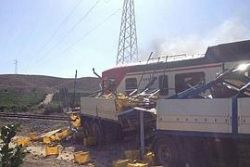 A train crash in Murcia has piled on yet more pressure and safety concerns following the devastating Santiago de Compostela RENFE rail accident in Galicia which killed 79 people and injured hundreds more.
The accident, this time a local commuter train carrying 70 passengers travelling between Murcia and the coastal town of Aguilas, ploughed into a heavy goods vehicle whilst passing through Pulpí at around 3.30pm yesterday afternoon.
Up to 15 people are reported to have been injured, including the driver, 11 of which required hospitalisation in Rafael Méndez de Lorca and Huercal-Overa.
According to reports, there was an explosion and the train caught fire. The commuter train was operated by RENFE.
This latest accident follows a minor incident in Barcelona where a train coming into the Barcelona-Sants station crashed into a stationary train. There were no serious injuries.
Before this year's string of train accidents, politicians and rail chiefs had been hopeful to win major, lucrative international rail contracts under 'Brand Spain', however as rail safety fears mount at home, the international community will no doubt also have serious concerns.
Whilst it is unknown as to the cause of this latest rail accident, Spanish rail infrastructure managers, ADIF, said the incident happened on a Class A level crossing which was appropriately marked.
An investigation has been launched