Support for PP grows as scandal recedes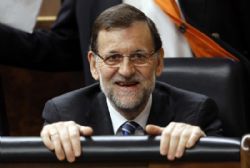 Spain's ruling centre-right Partido Popular would beat its socialist rival in an election as a corruption scandal involving party members dies down, an opinion poll in El Pais newspaper showed on Sunday.
The PP, led by PM Mariano Rajoy, would receive 34.1% of votes, compared to 29% for the socialist PSOE, according to the poll. Last month, the PSOE scored 30.1% to the PP's 30.5%.
The ruling party, which has implemented austerity measures to trim Spain's deficit, lost public support when a financial scandal involving an alleged secret slush fund run by ex-Party Treasurer Luis Barcenas came to light earlier this year.
The PP denies any wrong-doing.
"A month without any major news stories about Barcenas is enough for the PP to halt its slide and the PSOE to remain stable in its very poor situation, even though there are still some key facts to be cleared up," El Pais said.
The estimated voter support for the PP, based on a Metroscopia poll of 1,000 Spaniards on October 2 and 3, is still below the 44.6% of votes the party received in the 2011 parliamentary election. But it shows some recovery for the PP, with Rajoy standing firm against calls to resign. The government expects Spain to have lifted out of recession in the second half of the year and the poll showed 57% of Spaniards believe the crisis has bottomed out though recovery will be slow. The unemployment rate is currently 26%.
While 75% of those surveyed do not approve of Rajoy's management of the economy, 85% disapprove of Alfredo Perez Rubalcaba's work as leader of the opposition.
70% of Spaniards still hold former socialist PM Jose Luis Rodriguez Zapatero to some extent responsible for the financial crisis.
The poll showed support for smaller parties, viewed as more honest by austerity-weary Spaniards, is growing. The United Left (IU) would receive 11.5% of votes in an election compared to the 6.9% it got in 2011, while the centrist UPyD would score 9.1% compared to 4.7%.