San Javier Closure for Corvera "Makes Sense" : AENA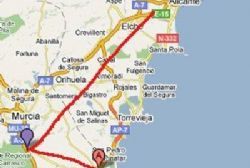 President of AENA, Jose Manuel Vargas Gomez, has told the Senate Budgetary Committee of his support for civilian flights to cease at Murcia's San Javier Airport, due to it's proximity to Corvera Airport.
Vargas-Gomez commented how "it makes sense", especially now that the future management of the newer facility has been clarified.
During his appearance before the Congressional Development Commission to present AENA budgets, Vargas-Gomez stressed that AENA must be compensated for the closure of San Javier airport, and the employment rights of workers at the airport must be guaranteed to ensure a smooth passage to the operation of Corvera.
"Subject to this compliance, we will work with Corvera until it is operational", he commented.
The President dodged questions as to whether AENA would be the next manager of the airport, saying instead how this would depend upon the public tender process, and the conditions which must be clarified for the closure of the existing contract with the current service providers, Aeromur.
Vargas-Gomez neither confirmed or denied the announcement made last week by Murcia's President Valcarcel that the region would not be liable for any compensation payments made to AENA for their withdrawal from San Javier airport.
Recommended Reading
• Murcia will not repay Corvera debt or compensate AENA