Barcelona pad takes "World Interior of the year" award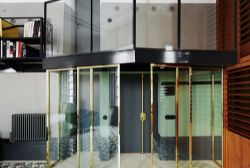 The 2013 "World Interior of the Year" award (yes, there is such a thing) has been won by a property in Barcelona.
The annual event - held this year in Singapore - allows interior designers, architects and other Arty-types to showcase their creativity.
The winning apartment on the Carrer Avinyó in Barcelona's Gothic Quarter was designed by London-based David Kohn Architects designed for two un-named Spanish brothers who use the pad as a Holiday Home.
Property website, Curbed.com, describes this year's winning property as featuring a tiled floor with a series of 'Sierpinksi-ish triangles' (I had to Google that one too...), a loft library, cobalt kitchen, and movable stairs.
The decorating team began by gutting the space, which was previously cut up into rooms-a particularly awkward arrangement given the apartment's arrowhead shape. By removing the internal stud walls, David Kohn Architects wanted "to reveal the junction and so reconnect living in the apartment to the streets beyond."
The Architects also noted how the main space (the "glazed lobby," at the apartment's narrow "Arrowhead" point) acts as "a threshold between the apartment and the city," with the bedrooms apportioned inside custom furniture, creating "the appearance of small buildings-the city beyond the apartment walls is mirrored by a diminutive city within."
For the flooring of the pad, the designers were inspired by the three-sided shape of the property, and the graded coloring of the tiles is meant to subtly divide the brothers' living spaces. The custom dining table stands where the red and green are most mixed, outlining the shared meeting space.
Those with slightly less to spend on a Spanish property are reminded that it is not essential to spend Millions to find a bargain.
Photo by Archilenta