Spain "Won't ask for more aid" : EU official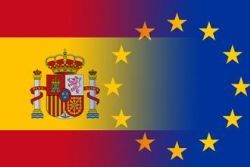 Spain is unlikely to seek more financial aid when current programmes of EU and IMF support end this year because Spain does not want to and Ireland is already funded for 2014, a senior EU official said on Tuesday.
Spain was offered €100 bln by the Eurozone to help recapitalise banks last year, but Madrid borrowed only €41 bln in exchange for reforms and close international monitoring. It will not be able to draw down any more after the end of this year.
"Spain sees no need for a follow-up programme, therefore it will not be happening," the official said. "If Spain does not ask, no one is going to push," he said.
EU officials hope that Ireland may mark the beginning of the end of the euro zone's debt problems if it does draw a line under its funding worries next year. Concerns about how Spain's economy will function in an era of tighter credit and more constrained housing markets continue to weigh on the prospects for its banks and government.
The IMF on Tuesday gave Ireland the green light to ease up on budget austerity in 2014 and predicted a solid 1.8% economic expansion as well as a return to minimal growth in both Italy and Spain.
NO CREDIT LINE AFTER ALL ?
Some policy-makers in Brussels have said that Spain and Ireland would be wise to seek a new credit line, just in case. Even if never used, it would enable the ECB to include Spain in its programme of government bond purchases, sending a powerful signal of confidence to markets. But such credit lines would also come with conditions and further close monitoring - a loss of sovereignty in economic policy-making that governments accept only as a last resort.
The official said that there was rising interest from private investors in Spanish banks, a sign the economy may be bottoming out.
"We also see the encouraging development of asset prices. My feeling is one can be fairly upbeat about Spanish banks and the economy," he said.
Under euro zone rules, a temporary credit line can be granted for one year and extended twice by 6 months.