Easyjet leave 29 passengers stranded in Malaga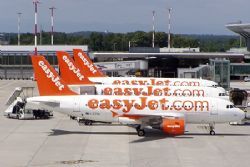 A group of 29 passengers hoping to board their Easyjet flight from Malaga to Bristol were left trapped in a stairwell as their flight departed without them.
The airline has now launched their own investigation into why the flight left without the passengers, yet their luggage was on board.
Returning Holidaymakers have described how the automatic doors at the foot of the stairwell closed, and those locked behind the door were unable to summon help. By the time a cleaner found them the flight had already departed without them.
An incredulous Easyjet representative was able to arrange for flights later in the evening to Gatwick airport, which was accepted by 19 of the stranded passengers, whilst the remainder opted to fly back to Bristol the following morning.
A spokesman for the airline commented : "Easyjet is in the process of contacting and apologising to the 29 passengers who did not board their flight from Malaga to Bristol due to an issue at the boarding gate.
"We have launched an investigation to understand what happened and will be offering flight vouchers and a refund of onward travel arrangements from Gatwick as a gesture of goodwill to the affected passengers.
"Easyjet arranged for 19 passengers to travel on the next available service to Gatwick and arranged accommodation for ten passengers who travelled to Bristol the next day.
"The bags were all security screened prior to being loaded onto the plane, which occurs on every flight."
However, answers have not been forthcoming concerning how exactly the flight was able to depart after counting 29 passengers through the gate, but not onto the airplane.