PP education reform angers PSOE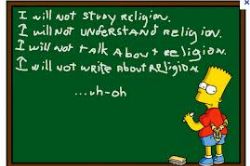 Spain is seeking to approve an education reform to reduce the high school fall-out rate in parliament later today.
Currently, around 25% of all high school students in Spain leave full time education before the age of 16 - one of the highest in the EU. The proposed reform aims to encourage students to chose a path of learning more specific to their interests and abilities - namely academic or vocationally based.
However the proposals have not with the approval of the PSOE Socialist opposition, who unanimously voted against the reforms. Whilst popular with many individual schools and regions for allowing them a greater level of self-governance, it increased the presence of the teaching of the Catholic religion in Schools. The PSOE have long promoted a separation of the Church and State, whilst the Conservative PP are pushing for a return to 'traditional values'.
The reform is also sure to upset the PSOE for removing a subject from the curriculum which they introduced whilst in government : "Citizenship".
The Spanish Education system has suffered cuts of more than €6 Bln since 2010, and was earlier this week shown to be close to the bottom of the table of literacy and numeracy skills in adults throughout the world.
The reform needs to be approved by the senate (where the PP have the majority) before coming into force.
Recommended Reading
• Spain comes bottom in OECD's basic skills survey