Franco-ists denied entry to Catalonia on 'Dia de Hispanidad'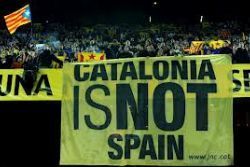 Spanish security forces are monitoring this weekend's Holiday festivities after experts have warned that a number of extreme neo-fascist groups are preparing a number of demonstrations across Spain to mark the country's national fiesta 'Dia de Hispanidad'.
Various right-wing groups are understood to have united to meet in Barcelona in protest over Catalonian nationalism, with the regional Police preparing to prevent any such activists from entering Catalonia.
The National Holiday is significant to Fascists as General Franco renamed the day - originally to commemorate the discovery of America by Columbus - to promote Nationalism.
A group calling themselves "Spain on the March" - comprising a number of different right-wing factions and one minor political party - is currently under review by Spain's Supreme Court for posing a security risk in their push for National unity and standing against regional independence.
Catalonia has already denied the group's official request to march along a route which is likely to provoke violence with pro-independence supporters.
Fascism and extremism is on the increase in Spain, with scores of demonstrators being arrested last months after forcing their way into a library where the national day of Catalonia was being celebrated, injuring many of those in attendance.
Police estimate there to be around 10,000 members involved in violent extreme right groups following Spain's return to democracy, before losing any presence in Parliament altogether in 1982. Some critics argue that many fascist ideologies continued under the guise of the Partido Popular.
Moves by the PP to shoot down Catalonia's attempts to criminalise public support for Fascism, Francosim and Nazism are hardly likely to help change that opinion.
However, alongside calls for independence by various Spanish regions, experts are concerned that the prolonged Eurocrisis will fan the flames of fascism, with many members of the public holding a distorted sense of nostalgia from a bygone era.
Earlier this week the PP mayor of a Madrid suburb tweeted that he would send some "skinheads" to target the PSOE as part of a broader public debate. He later said he was just joking.
Meanwhile, a Galicia mayor hung a photo of Franco in his office and played the fascist anthem – which resulted in a bomb being placed outside the building earlier this week.
The government and the PP leadership so far have limited their reaction to condemning violence and pro-fascist displays within its ranks, and no officials have as yet been reprimanded.
Recommended Reading
• UN tells Spain to revoke Franco era amnesty law