Castellon Airport "wastes" €11 Mln due to Nepotism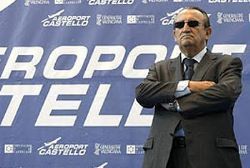 The Deputy Spokesperson for the Compromís party has called upon the Vice-President of the Generalitat Valenciana and President of Aerocas, Jose Ciscar, to tell the regional parliament why they have paid some €11 Mln to an external Engineering company, when they already had the appropriately qualified and skilled employees on the payroll.
Monica Oltra had gained access to the contract between Castellon Airport / Aerocas and IV Consulting Engineers Company, after making a request for documentation through the courts.
The contract covered the provision of Engineering Consultancy from February 2006 until May 2013, to oversee various projects at the airport.
Oltra suggested that the third party was yet another company with which the former President of Aerocas, Carlos Fabra, had "an association" with. A further company who had a similar association with the former President was Ingeniería de Castellón SA, whose sole director is Rafael Llopis, husband of the former PP Senator for Castellon, Carmen Pardo and father of the current airport director, Patricia Pardo Llopis.
The Deputy asked why the Father of the Airport's current Director, and close associate of the former President of the Airport, had been awarded €11 Mln for services that were simply "not required".
Read further Castellon Airport news by clicking the link >> HERE <<.