Prince Felipe calls for Spanish unity at national day parade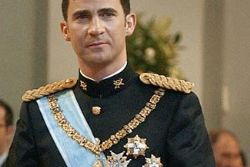 Crown Prince Felipe took his ailing father's place at a national day parade in Madrid on Saturday and called for Spanish unity, as thousands marched against Catalan independence in Barcelona.
King Juan Carlos, 75, is recovering from hip surgery, his 5th operation in 2 years, and missed the annual parade for the first time as expectations grew that his son may soon take over the troubled throne.
The parade, which has cut back on flyovers, sky divers and armored vehicles in recent years as part of a wave of austerity in the midst of a deep economic slump, lasted around an hour and passed through the center of the Spanish capital.
"This is a day to celebrate that which unites us, remember our history, value all that we've achieved together and reaffirm our commitment to the future," Crown Prince Felipe, 45, said during the traditional toast following the march.
Meanwhile, in Catalonia, where calls for independence have been growing as the economic crisis has forced deep spending cuts and fueled discontent with Madrid, thousands joined the national day parade waving Spanish and Catalan flags.
On September 11th, Catalonia's own national day, hundreds of thousands of Catalans held hands in a 400-km human chain across their region to press the Spanish government to let them vote on breaking away and forming an independent country.
Prince Felipe faces an uphill battle to win back Spaniards, who have soured on royals and political leaders during an economic crisis aggravated by corruption scandals and a widening gap between rich and poor.
A poll by Sigma Dos last year showed that close to 60% of Spaniards aged 18-29 no longer want a monarchy and other polls earlier this year showed that half of all Spaniards were in favor of the king stepping down.