Vatican Beatifies 522 Spanish Catholics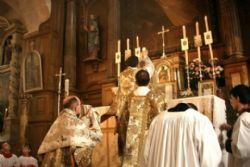 The Catholic Church has beatified 522 people - mostly priests and nuns - who were killed in the turmoil that led to Spain's civil war.
The beatification, the last step the Roman Catholic church takes before sainthood, was conducted by Cardinal Angelo Amato in an outdoor ceremony attended by thousands in the northeastern Tarragona region. Among the congregation were almost 4,000 relatives of those being beatified.
In the 1930s, Spain was engulfed in instability that saw the head of state, King Alfonso XIII, abandon the country and anti-clerical mobs attack clergy and burn churches.
The mayhem culminated in a 1936-1939 war, won by forces allied to Nazi Germany and fascist Italy and led by Gen. Francisco Franco.
Recommended Reading
• UN tells Spain to revoke Franco era amnesty law
• Spain ; Why not get your own house in order first ?