Catalonia "Owed €9.3 bln by Madrid"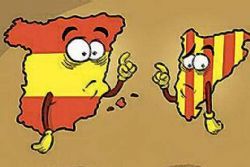 As tensions continue to mount between the regional government of Catalonia and the Partido Popular central administration, the regional government of Artur Mas on Tuesday came up with a 50-page document listing scores of grievances Barcelona has against Madrid.
Among the host of complaints are debts that the central government reportedly owes the region, and examples of inaction on the part of PM Mariano Rajoy to look at autonomy issues more closely.
The voluminous document is seen as the latest weapon of Mas and his Catalan CiU nationalist bloc to pressure Rajoy and the PP to sit down for talks to discuss the premier's proposed status referendum for next year.
The list of grievances, which was handed out to reporters by Catalonia government spokesman Francesc Homs after being approved by Mas's Cabinet, contains entries for bills Madrid supposedly owes Barcelona amounting to some €9.3 bln. This figure contains all the debts the central government is under obligation to pay, as well as diverse amounts for investments that are still pending in the region.
It also includes the amount of money that Catalonia has lost over the years owing to changes to laws and regulations made by the central government, Homs said.
Mas's pro-independence faction in the CiU also wants to make it clear that Rajoy and the PP "cannot speak about regional loyalty" if they don't change day-to-day policies toward Catalonia, the spokesman said.
"The current regional financing model [...] places Catalonia at the bottom of the Spanish average when it comes to handing out resources based on per capita revenue," he said.