Spain unlikely to require bailout extention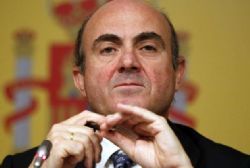 Spain will probably bring an end to the programme of international aid for its banks on schedule this year, Economy Minister Luis de Guindos told a news conference in Luxembourg on Tuesday.
Madrid turned to Europe last year for €41 Bln to help the weakest of its banks, which have been crippled by the collapse of its real estate market and resulting mass of failed loans to developers and houseowners.
With the economic fortunes of Europe's debt-ridden southern half showing signs of improving, a senior official in Brussels told Reuters last week that Spain was unlikely to seek more financial aid for the banks when the current programme runs out.
"The central scenario, and the most probable one, is that on November 15 (it will be decided that) Spain's banking programme will come to a close," de Guindos told reporters at a meeting of EU finance ministers.
The ECB and the European Commission, which backed the rescue, last month said in a review of Spanish banking reforms that the sector remained comfortably solvent, and praised its turnaround.
They stressed, however, that Spain's weak economy - set to emerge from a 2-year recession by the end of the year - and a fall-off in lending still posed a risk.
Like their European peers, Spanish banks also face a European review of their balance sheets early next year before the ECB takes over as supervisor.
Some believe their restructured or refinanced loans could come under particular scrutiny, and that they could be told to put more cash aside to counter potential losses on these, banking sources in Madrid have said.
Any capital gap that that process leaves is likely to be manageable, though smaller banks that are owned by the state are unlikely to be able to turn to the market like some of their peers.
The Spanish government currently estimates that lenders will have to put aside an extra €5 Bln in provisions to counter such losses, a source at the Economy Ministry said.
"The general perception is that in Europe the banking system has not been as thoroughly cleaned up as in the United States ... which is among the elements holding back economic growth in Europe," de Guindos told the news conference, in reference to the European review of banks' books.