Andalusia calls on Spain to ease Gibraltar border tensions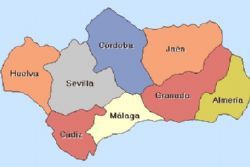 Foreign Minister Jose Manuel Garcia Margallo - arguably the most dangerous man in Spain - has insisted that the regional government of Andalusia must hold an equal status to Gibraltar in any talks between the UK and Spain concerning the future of the rock.
Margallo made the announcement at a press conference following a meeting with Junta president Susana Diaz, where it was agreed that this would occur where the talks would overlap with concerns of the regional government, on matters such as the environment and fishing. Captain Dangerous declared that the talks would have to be "either under two flags, UK and Spain, or, if that is extended, with the Junta participating with the standing as Gibraltar."
Garcia-Margallo was in Seville to discuss a number of issues with the Junta including relations with Morocco, where he heard the Junta's proposals for easing border controls with teh British Territory.
The Minister went on to say how he had listened carefully to the concerns of the region - especially how thousands of Spaniards cross the border to work in Gibraltar every day - and that it should be decided who is party to any future talks "as the issues arise".
After meeting with the Minister, Regional Government Spokesman, Manuel Jimenez Barrios stressed that the Junta will not involve itself in any matters of sovereignty but that it is prepared to participate in any discussion on matters which ih has a concern in.
President Diaz said that she was concerned for the 7,000 Spanish Employees who work in Gibraltar and urged Garcia-Margallo to ease on the border controls.