Spain rebate spurs EU car sales growth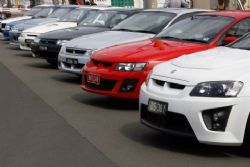 European new car sales rose the most in more than two years in September as the end of an 18-month euro-area recession, price cutting and a government incentive program in Spain helped boost demand.
Registrations last month jumped 5.5% from a year earlier to 1.19 million vehicles, the Brussels-based European Automobile Manufacturers Association, or ACEA, said today in a statement. That narrowed the decline so far this year to 4% for total sales of 9.34 million cars.
in the 17 EU countries using the euro rose in Q2 after the longest recession since the currency was created in 1999. Renault and Daimler posted the biggest car-sales gains last month. Demand surged 29% in Spain because of government-backed discounts of as much as €2,000 on vehicle trade-ins. Dealer rebates in Germany were the highest in 3 months.
"Car sales in the EU are showing signs of improvement, indicating that the worst is behind us," Peter Fuss, a partner at Ernst & Young consulting company in Frankfurt, said in an e-mail. "The sales, however, continue to be artificially boosted by huge discounts and self-registrations by dealers."
Renault, based in the Paris suburb of Boulogne-Billancourt, sold 22% more cars in Europe in September. Stuttgart, Germany-based Daimler, the3rd -biggest maker of luxury vehicles, reported a 12% increase. Demand at regional market leader Volkswagen rose 5.8%.
Full-Year Contraction
The car market's increase last month, which included one more working day than a year earlier, was the biggest since a 7.8% jump in August 2011. It was the 3rd gain this year, following growth of 4.9% in July and 1.7% in April that marked the first advance in 19 months.
Registrations in Europe are still on track to reach a 2-decade low this year in the 6th consecutive annual contraction.
The ACEA compiles figures from EU countries as well as Switzerland, Norway and Iceland. Croatia, the EU's 28th member state since July, will be added to the statistics as of January 2014. Deliveries in western Europe, which excludes countries that have joined the EU since mid-2004, rose 5.4% in September to 1.14 million cars.
Among the rest of the region's 5 biggest car markets, sales rose 12% in the U.K., the 2nd-largest, and 3.4% in France, which ranks 3rd. Registrations fell 1.2% in Germany, Europe's biggest economy, and 2.9% in Italy. Consumer confidence in the U.K. was at a 6-year high in September.
VW Golf
Growth last month at Wolfsburg, Germany-based Volkswagen included gains of 2.1% at the main VW brand, 3.2% at the luxury Audi division, 17% at the Skoda unit and 16% at the Spanish nameplate Seat. Sales were boosted by new versions of VW's best-selling Golf hatchback and Audi's Q3 and Q5 sport-utility vehicles.
Renault's deliveries were helped by a 40% surge at the Dacia brand. Vehicles introduced last year and this include Renault's first compact crossover, the Captur, as well as new versions of the Clio and Dacia Sandero hatchbacks and Dacia Logan sedan and wagon.
Carmakers reporting European sales declines last month included Paris-based PSA Peugeot Citroen, the region's 2ndbiggest auto producer, with a 3% drop, and Turin, Italy-based Fiat with a 3.4% slide.
German Rebates
Dealer rebates in Germany rose to 12% off the sticker price on average, an increase from 11.6% in August and the highest level since June, according to industry publication Autohaus PulsSchlag. The best deals were available on Peugeot and Renault cars, with combined average discounts of 14.9%. Fiat offered incentives equivalent to 13.7% of the list price.
European sales by Detroit-based GM rose 5.4%, with its main Opel and Vauxhall brands in the region reporting a combined 5.5% increase. Ruesselsheim, Germany-based Opel started production of the latest version of the mid-sized Insignia in August, adding to a lineup of new vehicles that includes the Mokka compact SUV and Adam city car. U.S. competitor Ford posted a 5% gain in sales in the region.
BMW, the world's biggest maker of luxury cars, sold 6.4% more vehicles in Europe last month. Daimler's delivery gain was propelled by a 14% jump at its Mercedes-Benz brand.
Mercedes ranks 3rd in global premium-auto sales to Munich-based BMW and VW's Audi.