Spain Extends Plan PIVE Cash for Bangers Scheme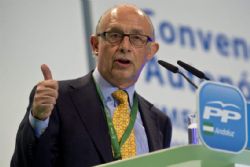 Spain will extend its new vehicle purchase trade in scheme, Plan PIVE, to boost the sector further and remove older vehicles from the roads as the economic recovery continues.
Speaking at an industry forum earlier today, Finance Minister Cristobal Montoro said "We are going to extend the scheme with a further 70 MILLION EUROS".
The scheme, which began in October 2012, had already been renewed 3 times before today's announcement. The most recent being dubbed 'Plan PIVE 3'.
Under the scheme, new car buyers can trade in a vehicle against it and depending on the vehicle age and type, can receive up to €2,000 as a cash bonus met by the government and the automotive industry on a 50:50 split.
Despite Spain being the SECOND LARGEST vehicle manufacturer in Europe behind Germany, more than 90% of new vehicles made are exported.
PM Mariano Rajoy had hedged his recovery plans on exports alone, but has since come to realise that any recovery from exports cannot be sustained without recovery in its domestic markets also.
Montoro acknowledged that vehicle manufacturing is "a leading sector for getting out of the crisis."
"In Spain, the number of cars sold is subnormal. Consumption is low in our country and that is about confidence. We can and must support domestic car-buying" he said.
Latest forecasts predict around 700,000 new cars will be sold in Spain this year. In 2007, the year before the crisis struck, 1.7 million new cars were sold in Spain.
Whilst all the signs are there that a recovery is on the horizon and Spain becomes less and less in danger of economic collapse, unemployment is still above 26% and the number of insolvencies reported by the end of September 2013 rose 27% to more than 6,500 compared to the same period in 2012.
News this week that Spanish white goods manufacturer Fagor has filed for bankruptcy protection from creditors, whilst it tries to refinance more than €1.1 BILLION of debt, could see almost 6,000 employees joining the unemployment queues unless it finds a solution.