Further Expat Homes Demolished by Spain's Corruption Legacy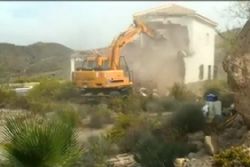 British Expats John and Jan Brooks had their Spanish dream home demolished by authorities earlier this week after a lengthy legal battle failed to save it.
The couple originally from Taunton, Somerset bought their dream home in Andalucía in 2005 for €170,000 and spent a further €20,000 on a new kitchen and pool. They had previously lived in Menorca but sold their property to move to the mainland.
Their property was amongst THREE other properties build in Sierra de los Filabres and were all bought by British Expats.
The developer, Francisco Pedrosa, who built the properties without the necessary permissions and duped the buyers into parting with their cash was handed a 5 month suspended jail sentence, ordered to demolish the properties and to compensate the victims in full.
During the legal battle, Spanish courts heard that police turned up twice to the development ordering Francisco Pedrosa to stop, however he continued and sold the properties to the unsuspecting Expats.
Pedrosa has since filed for bankruptcy leaving little hope of receiving any compensation for the Expat victims.
Demolition crews arrived on Monday to tear town their home along with a neighbouring property, leaving two properties scheduled for demolition.
Pedro Llamas, the local mayor was also implicated in the case for illegally authorising the connection of water and electricity and failing to stop construction. He was handed a two year prison sentence which was suspended and was forced to surrender holding public office for 23 months.
'It was our pension and a place where in happier times we enjoyed great times with our family" said John, 73, a retired Sales Manager.
'We feel so angry about what has happened. Now it is has been torn from the ground. Even the rubble has gone."
He added 'We have no intention of ever setting foot in Spain again. Why should we spend money in Spain and give them the pleasure of having any more of my money? Never again.'
His comments echo the sentiment of thousands of expats across Spain from all nationalities that have fallen victim to dodgy developers. But still, the lack of regulation or any kind of protection despite state sponsored involvement though elected corrupt politicians leaves a wide opening for abuse and the potential for further victims.
Whilst disturbing, the situation is not unique to Spain, with Expats experiencing similar problems in Portugal, Greece, Cyprus, Italy and several other European countries.