Spain asks Regions to save €8 Bln by 2015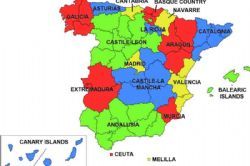 Spain's central government asked the regional governments to cut their budget by over €8 Bln in 2014 and 2015, according to the 2014 Budget Plan sent on Thursday to the European Commission.
According to the document, the regional governments in 2014 should increase their revenue by €2.14 Bln and reduce spending by €1.93 Bln. They will have to increase taxes and reduce staff and pharmaceuticals spending to increase their revenue.
In 2015, the regional governments must cut over €4.5 Bln, collecting €2.37 Bln and cutting €2.19 Bln.
Meanwhile, the government expects public debt to reach 101.13% of the country's GDP in 2015 before falling slightly to 101.09% in 2016.
Thursday saw the Bank of Spain report that the debt had reached €944.68 Bln by August, 92.3% of GDP.