Santander aims to double U.S. bank profits by 2016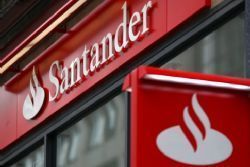 Spain's Santander is aiming to double profits from its U.S. banking business in the next 3 years from $1 billion now, Chairman Emilio Botin said on a visit to New York, in comments confirmed by the bank on Friday.
"The target is to double that profit in three years to $2 billion, through organic growth," Botin said on Thursday on the U.S. trip, where he launched the rebranding of the business from Sovereign Bank to Santander.
Botin said that Santander's U.S. bank, which operates in the north-east of the country, was also aiming to reach a 10% market share from 3% now. He conceded this could be difficult to reach with organic growth, however.
Botin also said that Santander was still planning to go ahead with a listing of its UK business. This had at one stage been pencilled in for 2014 or 2015, but in July the bank said it was not on the table in the medium-term.
"We will float (it) at the appropriate moment," Botin said. "I don't know if it could be 2015 or 2016."