Spain records highest deficit in EU for 2012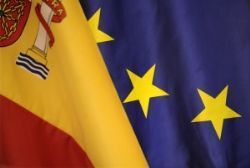 The European Community's official statistics agency - Eurostat - has reported how Spain recorded the highest deficit in the EU for 2012.
Spain's 10.6% deficit was followed in second place by Greece, with 9.0% and Ireland, with 8.2%.
Excluding international funds for the country's banks, the public deficit ratio was 6.9%, less than the 7.0% ratio seen in April, but greater than the 6.5% target set out by the Spanish Government.
17 of the 27 EU member states recorded a deficit over and above the 3.0% target of Gross Domestic Product (GDP) set by the European Commission.
However, 15 of the 17 members showed an improvement in their deficit levels when compared to 2011, while 12 reported a growing deficit and one remained stable.
The lowest levels of deficit were recorded in Estonia and Sweden (-0.2%), Luxembourg (-0.6%) and Bulgaria (-0.8%), whilst Germany achieved a government surplus of 1% last year.