Exports pull Spain out of recession in Q3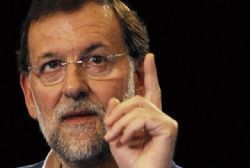 Spain's economy exited a 2-year recession in the third quarter thanks to strong exports, though with demand at home still depressed, sustainable growth that creates jobs may remain elusive for years.
GDP grew 0.1% between Q2 to Q3, the Bank of Spain said on Wednesday, marking the economy's first expansion in 9 quarters.
Spain's economy has shrunk or has been stagnant every year since 2008, when a property market collapse left millions out of work, forced a deep financial sector overhaul and drove thousands of companies in bankruptcy.
One of the euro zone's highest public deficits, nervous debt markets and a paralysed construction sector has since then forced the government to pass tough austerity measures and structural reforms in an effort to clean up the country's finances and nurse it back to economic health.
That process, which pushed the country close to requesting sovereign aid last year, is now starting to bear fruit, at least for many businesses with a presence abroad.
"After recently implemented reforms, Spain has become an export powerhouse, and it will fully leave the recession behind in 2014 with private investment and consumption growth turning positive after 3 years of decline and credit levels stabilising," economist and partner at financial advisory firm Arcano, Ignacio del Torre said.
"Though Spain still faces clear risks, it presents a strong potential upside in the years 2015 to 2020, and this upside is still not measured by many investors."
The central bank said exports contributed 0.4 percentage points to Q3 growth while internal demand had a negative impact of 0.3 points.
Its GDP numbers, which it presents as estimates rather than firm data, are traditionally released a week or so before statistics agency INE's official preliminary figures, which are due this quarter on October 30. The two sets of data rarely differ.
INCREASINGLY COMPETITIVE
Spain's economy has shrunk by 7.5% since the beginning of 2008.
But over the same period, the export sector has grown by 14.6% and is now worth over a third of total output compared to around a fifth 5 years ago.
Exports grew 6.6% from January to August from a year earlier to a record €155.8 Bln, the Economy Ministry said on Wednesday, while retail sales fell for the 38th month running in August.
Spain's success beyond its shores has been supported by a by-product of the economic crisis - increased competitiveness.
In recent months, Markit's Purchasing Manager's Index (PMI) has shown Spain's services and manufacturing companies, which have laid off employees and cut prices since the crisis began, have started to claw back customers.
The country's stubbornly high jobless rate may also have peaked.
Q3 unemployment data is due on Thursday, with analysts polled by Reuters expecting the rate to have fallen to 26.1% from 26.3% at the end of June.
As companies fight for survival, Spanish workers have become cheaper to hire, making them more productive compared with many of their European counterparts.
In public, the government is hailing a tentative end to the economic malaise that has plagued Spain. But some in the ruling Partido Popular are concerned the export-led recovery won't drive down the jobless rate or boost state coffers soon enough to influence voters in the next national election due in 2015.
"I believe we're likely to see growth of as much as 1.3% in 2014. That will be through investment and exports, but it's consumption which boosts the economy and brings more state income," said a high-level politician within the PP who declined to be named.
Official government forecasts see economic output expanding by 0.7% year on year in 2014 after a contraction of 1.3% this year.
But with that expansion again likely to be dominated by the export sector, which enjoys tax breaks and registers much of its profits outside Spain, the government make have to rely on more austerity to close a €35 Bln budget gap by 2016.
Compared to labour-heavy sectors such as construction or services, exports produce few jobs at home and with more than 25% still unemployed, the recovery will ring hollow for many.