BBVA Joins Other Spanish Banks in Reporting Profits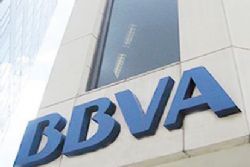 BBVA, Spain's 2nd-biggest bank, said on Friday it was cutting its 2013 dividend and capping payouts as of next year to a maximum of 40% of profits paid solely in cash.
The bank, which also reported an 86% rise in 9-month profit, is like other European banks bolstering its capital ahead of a Europe-wide asset quality review.
Spanish banks are recovering from a real estate crash and a deep economic crisis which ate into earnings in the last few years, with steep provisions against property deals last year gutting profits.
BBVA is the first lender to implement a major change in its dividend policy after the Bank of Spain said earlier this year that banks should cap dividend payouts in cash to no more than 25% of profits.
Most banks stood by their dividend policies throughout the crisis, which pushed up the amount of profits paid out to shareholders to well over 100% in some cases.
BBVA profits fell over 44% in 2012 and payouts as a percentage of profits reached 136%, paid in cash as well as in shares.
BBVA will cancel out a payment due in January and will slightly increase the last 2013 dividend payment due in April, but the changes will effectively spell a cut from a handout of €0.42 per share to €0.37 for the year.
"The Bank of Spain has issued a series of recommendations on dividends and we have to comply with them," a BBVA spokesman said.
The bank had been paying a €0.42 per share dividend since 2009, when its payout ratio had been around 37.4%, according to Reuters calculations based on BBVA figures.
That payout ratio leapt to 68.5% in 2011 and later to 136% as the crisis bit. The bank said on Thursday it was aiming to hand out between 35 - 40%of profits to shareholders annually.
The change will be phased in as of next year.
BBVA's 2013 9-month profit jumped to €3.1 Bln, nearly double what it made in the same period a year ago but below analysts' expectations.
Like other Spanish lenders, BBVA has set less money aside to counter soured debts than in 2012, and a series of Latin American disposals earlier this year have also helped profits. Nine-month net interest income fell 3.2% from a year ago to €10.85 Bln, in line with forecasts.
Recommended Reading
• Santander profits up 77% 2013 to date
• Spain's CaixaBank posts 164.5% increase in profits