Spain's 'Bad Bank' First Sale Disappoints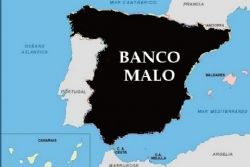 Spain's bad bank failed to attract high enough bids in its first sale of commercial real estate and will cut the size of the portfolio being offered to make it easier to sell, according to 3 people familiar with the matter.
The bad bank, known as SAREB, received more than 30 offers for the portfolio that were lower than it expected, said one of the people, who declined to be named because the information isn't public. It will reduce the number of buildings in the package known as Corona to 4 from 7, the person said. A spokeswoman for Madrid-based SAREB declined to comment.
Spain created SAREB last year to absorb €50 Bln of real-estate assets from lenders including Bankia group that took aid as part of the nation's European bailout. Its failure to attract high enough bids may undermine growing optimism in Spain as the stock market has surged 21% this year and foreign investors including Microsoft Corp. founder Bill Gates buy into Spanish companies.
In August SAREB agreed to sell a majority stake in a group of almost 1,000 homes known as Project Bull to private-equity firm H.I.G. Capital LLC. It also sold loans advanced to Inmobiliaria Colonial SA with a nominal value of €245 Mln to Burlington Loan Management Ltd.