Iberia Airlines expected to return to profit in 2014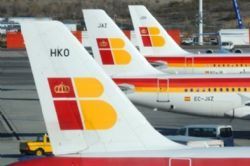 Willie Walsh, the CEO of International Airlines Group (IAG), predicted earlier this week that the company's Iberia Airlines would return to profit during 2014.
"IAG Iberia was in a significant crisis but is well on the path to recovery. Iberia will be profitable next year, like British Airways [BA] and Vueling already are," Walsh said at the Airport Operators Association annual conference in London on Tuesday.
Walsh did not specify whether Iberia would be profitable on an operating or a net level. IAG is the holding company for Iberia, BA and Vueling. Earlier this year, Walsh said he expected Iberia to return to the black in 2015.
Tough competition
Iberia has been losing money for the past 5 years. The company has initiated a restructuring plan that entails laying off 3,100 employees and closing unprofitable routes. IAG suffered a loss of €501 Mln in the first half of this year, with a negative contribution from Iberia of €35 Mln.
"Iberia is still losing at the moment but we will bring them back to profitability next year," Walsh said.
The IAG CEO attributed the situation at Iberia to stiff competition from low-cost carriers and from Spain's high-speed train network. IAG hopes that the restructuring, which will cost €600 Mln will be key to Iberia's return to profitability.