Spain's 'Plan PIVE 4' Will See Gov't New Car Subsidies Reach €265 Mln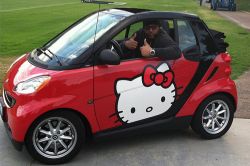 A meeting of the Spanish Cabinet on Friday saw an agreement to extend the 3rd Phase of the 'Plan PIVE'. What will now become Plan PIVE 4 will see a further €70 Mln of Government Investment.
What will now become Plan PIVE 4 will consist of €70 Mln of incentives for the owners of Spanish cars of 10 years or older to exchange their vehicle for a newer and more efficient model.
Phase 4 of the initiative follows investments of €75 Mln, €150 Mln and €70 Mln for the previous phases. Although the total Government expenditure on this measure will now reach €265 Mln, Spain has able to collect around €1 Bln due to the plan to date, and has seen around 220'000 take advantage do far.
Previous plans had seen Car Manufacturers and the Government each contribute €1'000, however Phase 4 will increase the sum to €3'000 for large families and the disabled.
Deputy PM Soraya Saenz de Santamaria said how previous phases of the plan had been a success as it helped create and preserve jobs. She said how the rapid take up of the incentive proved how popular the measure had been.
The Government expects the funding for Plan PIVE 4 to last until the end of 2013.
Similarly, the Government has launched a second deal to encourage owners of Motorcycles, Mopeds, Electric Bicycles and Vans over 5 or 7 years old to buy an electric vehicle.
The Plan gives €600 in financial aid for the purchase of a motorcycle, €350 to buy a moped and €200 for an electric bicycle.
Spain's Automobile Manufacturing Industry has always said that without the Plan PIVE they would not have sold as many vehicles as they have, with sales expecting to reach 2.2 million cars in 2013 and 2.4 million in 2014.
Recommended Reading
• Spain to Extend Government Car Subsidy Scheme
• Spain Extends Plan PIVE 'Cash for Bangers' Scheme
• Government subsidy boosts Spain Car sales for July