Paramount Project Stumbles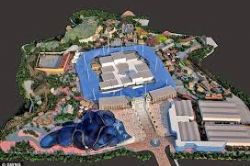 It is now 12 Months since news that a deal had been signed to build a new Paramount Theme Park outside London.
Initial reports were that London Resort Co. Holdings expected the project to be completed ready to open for Summer 2018, and at a cost of £2 Bln, with suggestions that the Park would be placed to compete directly with the Paramount Theme Park in Murcia.
The on-going problems and delays with Paramount Murcia have been well-documented on Tumbit, however in the interests of equality it may be worth noting how the project in the UK has not been without it's hiccups.
Back in April the 872-Acre project in Swanscombe, Kent, ran into problems due to environmentalist reporting the discovery of a rare colony of jumping spiders. This resulted in changes being required to be made to the plans to accommodate these unexpected guests - which in turn pushed the expected date of completion back to 2019.
Then just last month further news broke that Teal Energy - a UK company that recycles waste to produce energy - has submitted plans to build a recycling facility on the neighbouring plot of land.
Despite providing sufficient energy to power an estimated 45'000 homes - together with the park itself - Dartford Council have rejected plans for the plant, deeming the two projects to be "incompatible."
Swanscombe council has also opposed the Recycling plant - both on environmental grounds, and claiming that it it would limit the appeal of what is planned to become the 3rd largest theme park in the world. Paramount London is also expected to sustain some 28'000 direct and indirect jobs locally.
Whilst the future of the project is looking uncertain, comparisons can be made with the sister park in Alhama de Murcia Spain. Surely Michael Bartok and his colleagues at Paramount Licencing HQ in Los Angeles must be cursing their decision to expand into Europe ?
Recommended Reading
• Paramount Murcia v Paramount UK
• Paramount Licencing Curse Their Luck ?