Murcia President : "Corvera Airport will not be abandoned"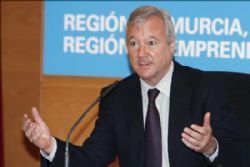 Murcia's President Valcárcel, announced earlier this week how the situation between the region and Sacyr has complicated the process to find a new operator for Corvera International Airport.
However, the Premier emphasised that the project would not be abandoned.
Upon being asked about the €200 Mln granted by financial institutions to partially finance the construction of the airport, Valcarcel intimated that the incoming licence operator would assume responsibility for this once appointed.
Valcarcel went on to insist that, despite difficulties in releasing Sacyr - the majority shareholder of Aeromur, who were appointed to build and manage the facility in 2007, he was confident that the region was taking the correct steps.
Meanwhile, Sacyr have told Murcia's Regional Court of Justice how the Region has made the decision to relieve them from their contract in order to make way for the appointment of AENA as operators at the airport.
Earlier this week Minister of Development, Ana Pastor, told the Senate how the Spanish Aviation Safety Agency (EASA) had almost finalized the certification required to allow Corvera to become operational.