Train Derailment in Barcelona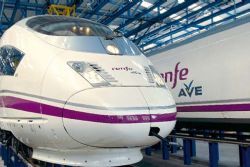 The Regional Government of Catalonia have reported three passengers have been injured in a trail derailment in Barcelona.
The final carriage of the RENFE operated train left the tracks as it approached the San Andreu Arenal station on the outskirts of the city, caused by what was though to be damage to one on the Axles.
None of the injuries are reported as being serious, and there is no suggestion of driver error, or any breach of safety with the service.
It is just 1 Month ago since a similar accident in Barcelona's Sants station left 22 injured after a commuter train collided with a stationery carriage.
Earlier in the year 79 passengers lost their lives and dozens more injured after one of Spain's worst ever train accidents. The derailment at Santigo de Composela, Galicia, back in July has since been attributed to excessive speed.
Recommended Reading
• Train Crash Injures 22 in Barcelona
• Spain to Consider Seat-belts Following Fatal Train Crash
• Spain Reviews Rail Safety Following Fatal Crash