Weak Spanish economy weighs on Bankia turnaround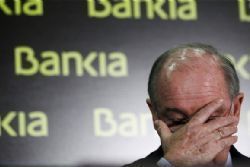 Spain's biggest bailed-out lender, Bankia, showed on Monday it was on track to meeting yearly profit targets after it was cleansed of its worst assets, although a weak economy is still hurting its net lending income.
Bankia, which posted a record €19.2 Bln loss last year because of soured real estate deals, swung back to profit in Q1 of 2013 but is still in the middle of a painful restructuring.
The bank became a symbol of Spain's financial crisis after its woes pushed Spain to seek a €41 Bln aid package for its weakest lenders last year in the wake of a property crash.
As with many of its Spanish peers, Bankia's bread and butter lending business has suffered compared to a year ago, as low interest rates ate into margins and credit declined.
Net interest income, a measure of earnings on loans minus deposit and financing costs, dropped 29% to €1.73 Bln in the 9 months to September.
Bigger peers Santander and BBVA last week also posted drops in net interest income in Spain, with Barcelona-based Caixabank bucking the trend on the back of recently-integrated acquisitions.
Net interest income at Bankia did rise in Q3 of 2013 from Q2 and some banks are beginning to show small improvements in net lending income as Spain exits a 2-year recession.
Bankia posted a €362 Mln net profit for the nine months, beating analyst expectations, in part thanks to a rise in fees. Including parent group BFA, which houses stakes in Spanish companies which are gradually being sold off, BFA-Bankia posted nine-month profit after tax of €648 Mln.
That should put it on track to meet an €800 Mln profit target for 2013, a key step in its restructuring after it took €18 Bln of European aid.
Bankia shares opened up 3% at 0800 GMT at €1.16 per share.
Though Bankia has moved most of its toxic property loans and real estate to a government-backed "bad bank", its bad loans as a percentage of total credit are still rising - mainly the effect of shrinking total loans.
The ratio reached 13.6% at end-September versus 13.4% at the end of June. The sector average in Spain was 12.1% in August.