Spain to Offer Citizenship to Muslim - Catholic Converts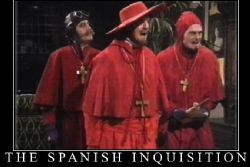 OnIslam.com has reported claims that Spain is considering granting citizenship to Muslims who convert to Christianity - a practice last employed during the Spanish Inquisition.
Spanish website ETC Noticias quoted the president of the Spanish Episcopal Conference (SEC) and Minister of Justice Alberto Ruiz Gallardón have reportedly said how the conversion must be authorized by representative of the Catholic Church, and take place in a recognised Church.
According to reports, converts must also pay a fee of €60, of which €5 will be for the Spanish State and the remaining €55 for the Church.
The Spanish Episcopal Conference (SEC) is an administrative institution composing of bishops from all over Spain.
Muslims currently make up 3% of the Spanish population - totaling 1.4 million residents.
However, the state has concerns over the number of Muslims living illegally in Spain - something that has been heightened over recent months with the increase in the number of attempts being made by Africans attempting to cross the straights of Gibraltar, or to the Canary Islands by makeshift boats.