Ryanair 2014 Charity Calendar Preview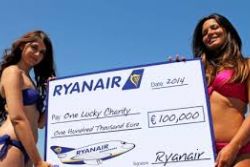 Ryanair's 2014 charity calendar preview on Youtube has counted more than 500'000 views since it's launch just 7 days ago.
Arguably the most controversial airlines flying to and from Spain, Ryanair have once again decided to use their prominence to aid charitable donations - with the proceeds from sales of the 2014 calendar going towards the UK's Teenage Cancer Trust.
Love them or hate them, the airline has raised over €600'000 for various charities since 2008, with a further €100'000 plus predicted this year.
Perhaps it is a notable, and not entirely unexpected nod to the age we are living in, but it seems not everybody is prepared to give Ryanair a begrudging pat on the back over this one. Last year the Provincial Association of Housewives and Consumers of Valencia branded the 2013 Calendar "Sexist and Exploitative" and went as far as taking legal action against the airline over their charitable actions.
It was never actually reported what the legal costs of doing so were, or who eventually footed the bill.
The Association has so far remained silent on this year's offering.
Recommended Reading
• Ryanair Calendar Double Standards
• Mr Grumpy : Sexist and Proud