Almost All Jews Eligible for Spanish Citizenship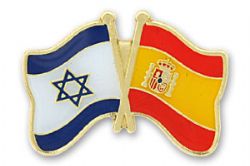 Barely 12 Months ago Spain announced that all Sephardic Jews (descendants of those expelled from Spain in 1492 by Catholic kings) could be granted Spanish citizenship automatically simply by proving some connection to the country via surname, language or ancestry.
In the November 2012 ruling the Ministry of Justice estimated that this would place the number of such people eligible for citizenship at around 250'000.
Following on from this announcement, a study undertaken by ArXiv has reported how, although just 20% of the world's Jews consider themselves Sephardic, the majority of Jews can also claim ancestry to those who were expelled for Spain in the 1500's.
Spain may therefore be looking at much higher number of potential new citizenship application under this condition, according to Joshua Weitz, researcher from the Georgia Institute of Technology. A further study by Weitz claims that almost all of Jews in the world have at least some blood in their veins of ancestors expelled in 1492. The report shows that - despite the preference to marry within their own religion and the fact that Jews of Iberian origins constitute a minority - one need only go back 15 generations to for all individuals to have at least a direct link with a first generation Sephardic Jew.
The Federation of Jewish Communities in Spain (FCJE) have said that despite the proposal put forward by the Spanish government, ''the reality is that the process is being examined by the Justice Minister'' and that for the time being ''no one can choose Spanish nationality through this fast-track, since the method has not yet been established''. The FCJE reports that so far 5,000 Jews have requested Spanish citizenship from the government.
Recommended Reading
• Spain makes changes to Citizenship procedure
• Spain's Expulsion of the Jews : 1492