Spain current account surplus almost triples y/y in August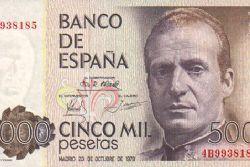 Spain's current account surplus almost tripled in August from a year earlier, the Bank of Spain said on Thursday, reaching its 2nd highest level in 15 years on the back of surging exports and sliding imports.
The Spanish economy returned to growth in Q3 after 9 quarters of contraction, though weak domestic demand continues to weigh on hopes for a robust recovery.
The current account surplus was €2.53Bln in August, almost 3 times more than the €850 Mln registered in the same month in 2012, the Bank of Spain said.
Spain's trade deficit plummeted to €1.23 Bln compared to €2.69 Bln a year earlier as imports fell 3.6% while exports rose 4.3%, it said.
The smaller trade deficit in the month of August meant that the large services surplus, including a €4.7 Bln surplus in tourism, had a bigger positive impact on the overall current account balance than in the previous year.
Spain's current account suffered a record deficit of €12 Bln in January 2008, one of the world's largest shortfalls in relative terms. But in July 2012 this turned to surplus for the first time since 1998.
DIRECT FOREIGN INVESTMENT
The Bank of Spain figures also showed foreign investment in Spain almost doubled to €18.76 Bln in the 8 months to August from a year earlier after non-resident investors were lured by bargains after a 5-year economic downturn.
The inflow of fresh foreign cash will facilitate a sustainable recovery in the Spanish economy, where domestic companies struggle with relatively higher borrowing costs and public investment has been slashed.
"The more international companies buy into Spain, the more Spain will become immune to the supply side constraints on lending... They will not be influenced by the Spanish situation, so it is very important we see a continuation of these flows," said Gilles Moec, an economist at Deutsche Bank.
Microsoft co-founder Bill Gates recently bought a 6 percent stake in Spanish builder FCC, Colombian and U.S. investors bought new shares in Spanish lender Banco Sabadell and sources say a Canadian paper group is interested in Spain's Indas.