Progress at Paramount Murcia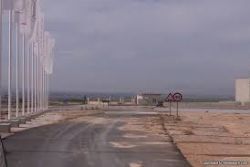 Proyectos Emblemáticos Murcianos SA (Premursa) has announced the award of a contract to the value of €52 Mln to Ferrovial for construction of the 1st phase of construction at the Paramount Pictures theme park at Alhama de Murcia.
At the same time, a second contract for phase 2 of the project was awarded for the value of €20 Mln to CHM Obras e Infraestructuras SA. Works for Phase 2 is concerned with the Lifestyle Centre, including the park's Hotels and shopping areas.
Work on access roads and parking areas is expected to be complete in January 2014, with the park on course to be open at some point during the summer season of 2015.
Read the full archive of Paramount Murcia news by clicking the link >> HERE <<.