Producer of Pocoyo begin bankruptcy procedings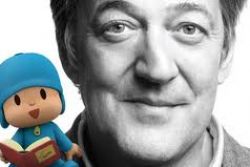 The production company behind the international children's TV program "Pocoyo" has started bankruptcy protection proceedings, authorities reported earlier today.
The animated show's producer - Zinkia - applied to refinance its debts, citing problems in meeting imminent payments, in a statement to the Spanish stock market regulator.
Pocoyo, which is narrated by Stephen Fry in the English language version, is exported form Spain to a number of countries.
The series is centered around the life of the show's namesake, who is dressed in a blue outfit and matching hat with earflaps, where he loves to dance to music from magic flowers with his friends Elly, a pink elephant, and Pato, a grumpy yellow duck.
Zinkia applied for a court to oversee negotiations with its creditors, one step towards possible bankruptcy under Spanish law which allows the company 4 months to attempt to resurrect their finances before filing for bankruptcy protection.