Solar Eclipse to appear over Spain this afternoon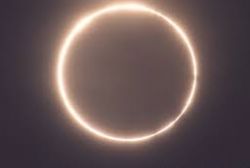 A rare "Hybrid" Solar Eclipse of the sun will be visible across parts of Spain later this morning.
The event will occur as a total eclipse in some places and then in others as an annular eclipse, in which the sun appears as a bright ring around the dark moon. Spain is expected to see a partial eclipse.
When the moon blocks the appearance of the sun entirely it is called a total eclipse, and when the moon blocks the sun but appears smaller, leaving the outline of a solar ring, it is called an annular eclipse. The hybrid eclipse isi when both occur.
The main phase of Sunday's eclipse will take place at 13:39 CET over the Atlantic Ocean, 205 miles southwest of Liberia, according to a NASA website that tracks eclipses.
Weather permitting, partial phases of the eclipse may be then be seen in the skies above Spain.Experts said people should not look directly at the sun during the eclipse unless they use special welder's glass or view it indirectly with a pinhole projector, as everyday sunglasses will not protect the eyes.