Catalans prefer more autonomy over full independence from Spain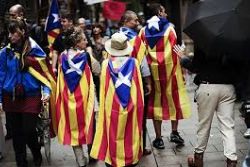 Catalans would prefer more autonomy for their northeastern region of Spain, where separatist sentiment has been on the rise, over outright independence, an opinion poll showed on Sunday.
Calls for secession in the wealthy Catalonia region of 7.5 million people have grown during a recent deep recession and cuts in public spending, stirring a national debate that has become a headache for Spanish PM Mariano Rajoy.
While 46% of Catalans continue to favour separatism versus 42% who wish to remain within Spain, if offered a third option of increased autonomy, 40% would vote in favour versus 31% who would still prefer independence, the Metroscopia poll published in newspaper El Pais showed.
Catalans have demanded a referendum on secession from Spain, a vote that Rajoy has pledged to block in the courts saying that it would be unconstitutional.
Even though a majority of Catalans believe that independence is still a remote possibility, they also believe they should have a say in the matter, the Metroscopia poll of 1,000 people showed.
Recommended Reading
• Catalonia to lose EU membership if split from Spain
• Prince Felipe calls for Spanish unity at national day parade
• Catalonia owed 93 Mln Euros by Madrid