UK Company in Madrid Court over Spanish Property Scam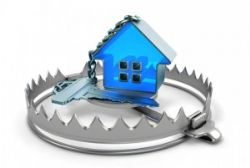 A disqualified director has told a criminal court in Spain that his Staffordshire company's alleged role in an £11.2 million overseas scam is unfounded.
Former Aston Villa captain Gareth Barry and BBC's Homes Under The Hammer star Martin Roberts were among those duped into marketing luxury off-plan apartments for the firm, though neither benefited in any way, or had any knowledge of irregularities.
The company, Ocean View Properties (OVP) was set up by Colin Thomas, who stands accused of defrauding customers of hundreds of thousands of pounds in lost deposits.
the Company sold holiday apartments at the planned luxury Estepona Beach and Country Club, near Marbella, on behalf of Spanish development company Sun Golf.
However, the land in question was never actually owned by Sun Golf, and construction of the planned development never began.
Mr Thomas told the Madrid Criminal Court that Staffordshire Police had investigated OVP and that no irregularities were detected.
He insisted that his company Ocean View Properties International Limited (OVPIL) acted only as a selling agent for the main Spanish-registered Ocean View Properties, a parent company.
Thomas, who is in his early 50s, admitted that Sean Woodhall – a convicted fraudster – worked for OVP Spain.
Mr Thomas claimed problems arose solely when Spanish developer Sun Golf, owned by the main accused Ricardo Miranda, did not build properties.
The court heard that OVPIL received almost £30 million of which €12 Mln was transferred to Sun Golf via OVP Spain.
The remainder was used to pay commissions to agents, general costs and maintenance.
Mr Thomas repeated OVP's claim that Sun Golf never refunded any of the amounts he received.
When asked about the signature of an OVP employee acknowledging receipt of letters from Mr Miranda concerning problems with planned developments, Mr Thomas said this was untrue and that his company was never informed, before going on to refuse to answer any further questions.
OVP secretary David Stewart, told the court he was not involved in any decision-making, and that the €5 Mln sum received from Sungolf was "a loan", but again refused to answer further questions.
Former OVPIL Director John Parkes, from Birmingham, failed to appear in court as summoned, which will result in an International arrest warrant being issued if he fails to attend a 2nd session.
Developer Mr Miranda told the judge that he made OVP aware of all the problems of the Estepona development but claimed OVP said that he should go ahead and that he refunded the €12 Mln sum.
Over 1,000 British investors, who paid a total of £45 million for 'off-plan' overseas property developments, lost their money when OVP was formally dissolved in 2009.
All of the accused have previously strenuously denied any wrongdoing, however in 2011 Colin Thomas was given a 9-year ban from running a company following an unconnected Insolvency Service Investigation.
The criminal investigation continues.