Spain's Garzón seeks UN action on Franco victims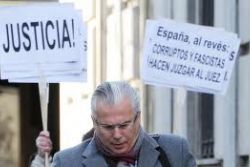 Former Spanish judge Baltasar Garzón urged a United Nations panel on Monday to push his country into investigating the disappearances of 150,000 civilians believed killed by forces of the late dictator Francisco Franco between 1936 and 1951.
Garzón, whose own inquiries were halted in 2008 after state prosecutors ruled that a 1977 amnesty after Franco's death put any crimes of the period beyond his reach, told a news conference he was confident the panel would back the call.
"After 75 years, it is high time for we Spaniards to agree to say that something very evil happened," said Garzón, who won fame for unsuccessful efforts a decade ago to bring former Chilean military ruler Augusto Pinochet to trial in Spain after having him arrested on a visit to London.
"What I find so frightening is the indifference of Spanish governments and the entire political class to the fate of the victims of Franco and of the suffering of family members they left behind," he said.
The issue is on the agenda this week of the Geneva-based UN Committee on Forced Disappearances which monitors the performance of nations under a 2010 convention on the issue which Spain, with 39 other countries, has ratified.
In September, 2 investigators from the committee visited Spain and told government and legal officials that no amnesty could fence off crimes against humanity from investigation.