Driver now only suspect in train derailment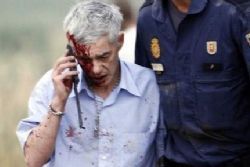 The Court of Santiago de Compotela, Galicia, has dropped its investigation into the involvement of 22 ADIF officials following the fatal train derailment of July 24th.
The decision not to continue the investigation into the involvement of the rail infrastructure employees leaves train driver, Francisco Garzon, as the only suspect.
A statement issued by the court early on Tuesday said there was nothing to indicate that the ADIF Employees could be considered suspects for causing the circumstances leading to the crash, which resulted in 79 deaths and multiple injuries.
Garzon admitted from the outset that he was speeding when the crash occurred and has been provisionally charged with multiple counts of negligent homicide.
The ADIF officials included the company's 3 most recent presidents, board members and managers in charge of safety.