S&P sees Spanish house prices falling into 2016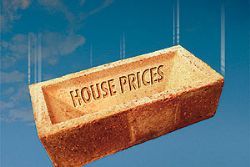 In a report released Monday, S&P predicted that house prices this year would decline 8%, followed by a fall of 5% in 2014 and 1% in 2015. It noted while the country has emerged from its longest recession in decades, this has been on the back of stronger exports.
The agency said that unemployment remains high at just under 26%, while wages have fallen as a result of the process of internal devaluation to restore Spain's competitiveness. It said further wage cuts as part of this trend seem "probable." It further pointed to the fact that household debt levels remain high.
As a result, S&P said there is insufficient "solvent demand" to absorb the estimated stock of unsold homes as of the end of 2012 of 635,000, 30% of which are in the hands of the country's lenders and the so-called SAREB bad bank, set up to absorb the toxic real estate assets of the banking sector.
S&P also warned that the pace at which SAREB sells the stock of homes it has acquired will weigh on house prices in the coming years, with the lack of "solvent demand" making the task of the asset management corporation harder.
It said it sees the target SAREB has set itself of 45,000 home sales in the next 5 years, including 7,500 this year, as very challenging, as witnessed by the limited number of transactions it has completed since the start of 2013.
The agency expects SAREB and banks with a significant portfolio of unsold homes to divest themselves of these real estate assets in a gradual manner in order to avoid a collapse of the market. However, it is noted a process of gradual divestment would be hard to manage and if it were to be speeded up it could lead to double-digit falls in prices in the period 2013-2014.