Spain readies reforms of natural gas market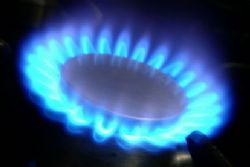 Spain is preparing a reform of its natural gas sector to stop incipient losses borne by the state from growing into the kind of multi-billion-euro debt problem that prompted a controversial reform of the electricity industry earlier this year.
The government unveiled a sweeping power overhaul in July to resolve a €26 Bln electricity tariff deficit created after more than a decade of a mismatch between regulated prices and costs of power, which the state guarantees.
Now it intends to pass measures to align regulated costs and revenues in the gas sector and increase competitiveness, Industry Minister Jose Manuel Soria told Reuters in an interview at the Spanish embassy in London.
"There will be a gas reform to avoid what happened in the electricity sector. Right now there is a small, incipient (tariff) deficit in gas. We have to control it," Soria said after attending an international tourism event in London.
Spain is battling excess gas supply due to a recent surge in renewable energy, which in the first half of the year accounted for over half of total electricity generation, as well as excess capacity after years of over-ambitious infrastructure planning.
The scale of the country's gas sector is the result of targets formed in the boom years before crisis hit and left plants operating at a fraction of their capacity.
Spain finally emerged from recession in the third quarter of this year after five years of contraction or stagnation that led to one of Europe's highest unemployment rates at 25% and a drop in energy demand.
Spain has power generation capacity of 100 gigawatts, far outstripping current peak demand of 44 gigawatts.
As part of the gas reform, Spain will introduce an exchange for gas prices, moving away from bilateral agreements, said Soria, who comes from the Canary Islands and is a longtime leader in the ruling conservative Partido Popular.
Analysts estimate the gas deficit could reach €1 Bln in 2015 if a new underground storage facility called Castor, also conceived before Spain's economic crisis, opens. Castor was indefinitely halted last month after minor earthquakes.
REASONABLE PROFIT
Among the July power reforms, Madrid said it would cut previously double-digit guaranteed returns for energy investors to Spain's 10-year government bonds plus 300 basis points for renewable energy as part of a "reasonable profit" policy.
Soria left the door open to linking guaranteed gas profit to treasury yields in the same way, but said he could not give more specific details.
The July measures, which will also cut power subsidies and cap profits on distribution, have faced fierce criticism from traditional electricity utilities, renewable energy firms, consumers, opposition parties and even the Spanish energy regulator.
Foreign investors in debt-backed renewable energy projects say the measures are retroactive and have threatened lawsuits, a prospect that Soria played down, saying the reform was in line with Spanish law.
"We respect their objections, but our mission is to comply with the law and provide financial stability," he said.
Spain's Abengoa, a thermosolar operator, has taken the Spanish government to the Arbitration Institute of the Stockholm Chamber of Commerce, saying the measures are expected to cut its thermosolar revenues by over a third.
Without the power reform, expected to gain parliamentary approval by early next year, pending some final details, Soria has said electricity prices would have grown by 42% and the tariff deficit by over €10 Bln.
Energy bills have become a hot issue in Europe, where consumers continue to bear the bulk of the costs of renovating ageing power systems and kickstarting renewable energy projects.
But whether or not the tariff deficit is contained this year, as intended with the new reform, depends on the central government injecting up to €3.1 Bln into the system as promised.
Soria said the government may ultimately decide to put the funds toward the country's public deficit, which just last year was at the centre of fears that Spain would need an international bailout.
Although bailout fears have disappeared this year, with the economy pulling out of recession and foreign investors starting to pour money into the country, the minister said the government would remain vigilant.
"Some targets are more important than the tariff deficit: the public deficit," Soria said. "If there is a (tariff) deficit this year, it won't be the result of a gap in regulated costs and revenues, but because of public budget needs."
Recommended Reading
• Spain energy suppliers told to auction excess supplies
• Spain sees new fracking laws take effect tomorrow
• Spain's solar tax : removing green incentives ?
• Valencia Earthquakes "Manmade"