UK Spain Agreement over Gibraltar : Worth Nada ?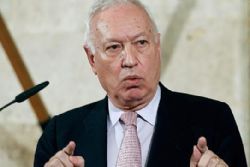 The UK and Spain have reached an agreement over Gibraltar which they have submitted to the General Assembly of the UN.
The news of the agreement over the British colony is a "first step towards the reestablishment of the normality of relations which was broken in 2004," Spain's Foreign Minister Jose Manuel Garcia-Margallo said on Tuesday.
The agreement states that both countries will reach a definitive solution over Gibraltar, which was ceded to Britain as part of the Treaty of Utrecht in 1713 and has been a source of constant frustration for Spain ever since.
This solution will "listen to the interests and the aspirations of Gibraltar, which are legitimate in accordance with international law," as well in the spirit of the Brussels Declaration of Nov. 27, 1984.
The agreement, signed as Spain applied to join the EU, saw Spain agree to allow free movement of people in and out of Gibraltar after 25 years of having closed the frontier.
It also stated that the UK and Spain would hold talks over Gibraltar with Britain prepared to negotiate on sovereignty, something which was not welcomed in Gibraltar. The territory has always been staunchly pro-British as shown by the fact that 99.6% of voters were in favor of remaining British in 1967 and 98.48% expressed the same feeling in 2002.
"Now we have to start putting the toothpaste in the tube," said Garcia Margallo, (Whatever that means) who added that groups would be established to discuss various aspects of the conflict, such as the rights of Spanish fisherman to fish close to the rock.
This agreement comes at the end of a period of tension caused by what many consider to have been excessive border controls by Spanish security forces, which led to queues of various hours for those wanting to enter or leave Gibraltar.
Spain's PM Mariano Rajoy and Britain's David Cameron asked the EU to send neutral observers to the area.
However, last night drivers crossing from Gibraltar into Spain reported 3-hour delays as Spanish border guards continued with intense checks on documents and vehicles, with pedestrians also facing delays of 1 Hour.
So much for "free movement".
Meanwhile, last night the Royal Navy was forced to escort the Spanish Navy corvette, the Infanta Elena, out of British Territorial waters off the coat of Gibraltar.
Read previous news articles concerning the recent conflict over Gibraltar by clicking the link > HERE <