Spanish Banks "Could weather fresh economic woes"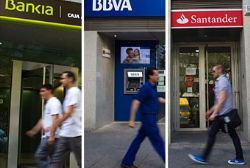 Spanish banks could cope with losses of €161 Bln on soured loans if the economy contracted again over the next 2 years, the Bank of Spain said on Wednesday in an analysis of lenders' financial strength.
The exercise, which tests how banks would fare under various economic scenarios, shows the Spanish banking sector as a whole in a good light ahead of a Europe-wide review of euro zone banks' assets early next year and subsequent stress tests.
But the Bank of Spain also warned that the country's lenders, which are recovering from a devastating real estate market crash, must keep bulking up their capital.
"The still fragile situation of the Spanish economy, the incomplete normalization of markets in the euro zone and the knock-on pressures on banks' earnings will force them to make additional efforts to contain costs and preserve capital," the Bank of Spain said in its November Financial Stability report.
The property market collapse forced Spain's banks to hike provisions against soured debts and wiped out their earnings.
Some needed state rescues to bolster their capital and Spain last year asked Europe for €41 Bln in funds to help the weakest. The Bank of Spain has since recommended that lenders restrict cash dividends in 2013 to strengthen their solvency.
The regulator, which said its analysis published on Wednesday was part of supervisory tools it was developing, said the 15 banks it looked at would have a comfortable capital position in 2015.
It forecast they would have an average core capital ratio of 10.2% of risk weighted assets in 2015 - above international requirements under the Basel III capital demands at that time - in a worst-case scenario in which the economy contracted.
Spain's economy exited recession in Q3 of this year after 2 years of contraction, and is forecast to grow in 2014 even though domestic consumption is still shaky and unemployment is still sky high.
In the Bank of Spain's worst case scenario, Spanish banks would make losses of €161 Bln on loans and foreclosed assets such as properties between 2013 and 2015 - equivalent to 12.1% of banks' credit and foreclosed asset exposure.
But it also projected that in an adverse economic scenario Spanish banks would have €190 Bln to offset the losses in the period through ready-made provisions, earnings and government-backed protection schemes against loan losses.
In a base case scenario, in which economic growth gradually improves, these losses would reach €134 Bln while the cushion from earnings and provisions would grow to €197 Bln.
Pressures on Spanish banks have lessened since the property crash clean-up.
The government shifted real estate loans and assets off the books of state-rescued lenders, and Spanish banks' net exposure to real estate risks would drop from €240 Bln at the end of 2011 to just above €100 Bln by the end of 2013, Bank of Spain Deputy Governor Fernando Restoy said in a separate speech on Wednesday.
But banks are still having to put cash aside to counter problems. The Bank of Spain earlier this year told banks to classify more of their refinanced debts as non-performing ones, to ensure they were not hiding risky loans to troubled borrowers.
It said on Wednesday that banks would have to make an extra €5 Bln in provisions because of this.