Spain nears year-end funding target as industrial output grows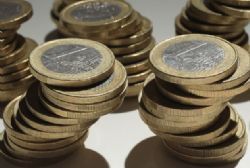 Spanish industry grew for the first time since early 2011 in September, data showed on Thursday, keeping investor sentiment towards the country upbeat as a strong debt sale brought the government close to hitting its 2013 funding target.
Calendar-adjusted industrial output rose by a surprise 1.4% year-on-year in September, beating expectations of a 1.5% contraction and marking its first growth on an annual basis since February 2011.
Meanwhile, the Treasury easily sold €4 Bln in mid- and long-term bonds and has now shifted 96% of its €121.3 Bln year-end target.
An improved outlook for the Spanish economy from ratings agency Fitch also boosted demand for the 2018, 2023 and 2026 bonds offered.
That helped lower the price paid by the Treasury - a trend of declining yields that seems likely to continue following Thursday's surprise interest rate cut by the ECB, which occurred after the debt sale.
The 10-year bond yielded 4.164%, the lowest since September 2010 and a long way from rates of over 7.6% hit during the height of the debt crisis in the summer of 2012.
Spain has languished in an economic slump since a property bubble burst in 2008, dragged down by depressed consumption in the face of record high unemployment.
That led nervous investors to demand unsustainable premiums to hold Spanish paper.
But an ECB pledge to do whatever it takes to back struggling euro zone economies, expansive monetary policies in the United States and Japan and the correction of fiscal and economic imbalances in the country have helped ease concerns.
Spain's economy registered its first expansion in over 2 years in Q3 thanks to strong exports, which also boosted capital goods production and lifted the headline industrial output figure.
"All the indicators point to a turnaround, and that we're entering into growth. The doubt remains on whether it will be strong or weak, but it's clear we're passing from a period of recession to a period of growth," said Nicolas Lopez, analyst at Madrid broker M&G Valores.
TWO HALVES
Fitch last week raised its outlook on Spain's debt, adding to the wave of improving sentiment and encouraging investors to bid for relatively high-yielding paper the Treasury is selling compared to many of its euro zone peers.
Debt in the euro-zone's once-shunned peripheral economies has attracted strong demand in recent months and Spain's auction came after Italy raised a record €22.3 Bln from a 4-year inflation-linked bond this week.
On Thursday, the Spanish Treasury sold €4.03 Bln, beating the targeted range of between €3 - €4 Bln and clearing the way for pre-financing 2014 borrowing.
While the recent economic data has helped fuel rising optimism toward Spain, some economists were more cautious about the strength of the recovery.
"This is another strong auction of Spanish debt and a confirmation, if one were needed, that Spain's problem isn't on the funding front, but rather on the fiscal and economic ones," said Nicholas Spiro, managing director at Spiro Sovereign Strategy, echoing many other analysts' views.
Spain's export-led recovery is weighed down by continuing dire consumer demand which is not expected to grow until record levels of unemployment are dealt with. The European Commission sees Spain's jobless rate remaining above 25% to 2016 at the earliest.
"Spain, like Italy, is very much a tale of two halves: a resilient and relatively buoyant bond market and a sickly economy whose public finances are going from bad to worse," said Spiro.